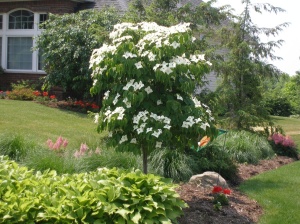 Zone 4 H(25′) W(20′)
10 gal. $149.00
Galzam Dogwood
Cornus kousa 'Galzam'
Hardiest of all the kousas. Huge creamy white flowers start in May. Red fruit that attracts birds. Purple/red fall foliage.
---
Zone 4 H(15′) W(15′)
7 gal. $109.00
25 gal. $329.00
Heart Throb Dogwood
Cornus kousa 'Heart Throb'
Very long lasting rose red flowers bloom in early summer. Deep green foliage turns brilliant red in fall. Raspberry like fruits will attract birds. Compact, slow growing and wide spreading. Cold hardy. Deer-resistant.
---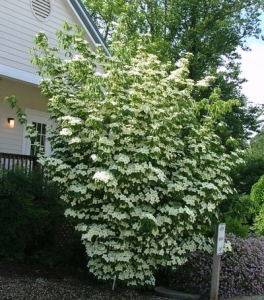 Zone 5 H(25′) W(20′)
5 gal. $79.00
7 gal. $99.00
10 gal. $149.00
Milky Way Dogwood
Cornus kousa 'Milky Way'
Bright showy, white flowers in mid-June. Massive show of bright red fruit. Purple/red fall foliage.
---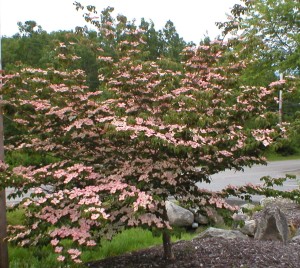 Zone 4 H(25′) W(25′)
7 gal. $109.90
10 gal.  $179.00
Satomi Dogwood
Cornus kousa 'Satomi'
Light pink flowers from early June until early July.
---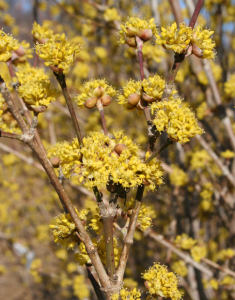 Zone 5 H(20′) W(20′)
15 gal. $99.00
Golden Glory Dogwood
Cornus mas. 'Golden Glory'
Abundant small yellow flowers in April before foliage. Upright habit, green, glossy foliage and red fall fruit. Edible.
---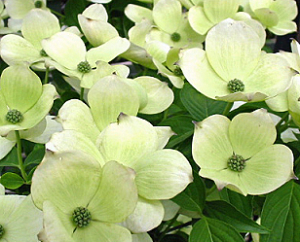 Zone 5 H(17′) W(14′)
7 gal. $99.00
Celestial Dogwood
Cornus x  'Rutdan
Vigorous and erect branches are white with a tinge of green. Rather uniform branching with vase shaped crown.
---
Zone 5 H(20′) W(20′)
7 gal. $109.90
10 gal. $129.00
Stellar Pink Dogwood
Cornus x 'Rutgan'
smothered in stunning clusters of shell pink flowers with pink bracts held atop the branches in late spring. It has attractive yellow-tipped green foliage throughout the season. The pointy leaves are ornamentally significant and turn an outstanding plum purple in the fall. It features an abundance of magnificent crimson berries from early to mid fall. The peeling gray bark and indian red branches are extremely showy and add significant winter interest.
---
*ALL PLANT MATERIAL IS SUBJECT TO AVAILABILITY*