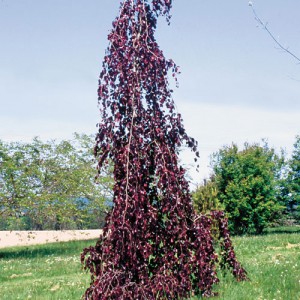 Zone 4 H(25′) W(15′)
Purple Fountain Beech
Fagus sylvatica 'Purple Fountain'
Columnar, dark-leaved tree with bronze-purple, wavy margined leaves and cascading branches. Leaves become more green as summer wears on. It is similar to the purple weeping beech but is much more columnar. Fall color is yellow, then orange-brown.
---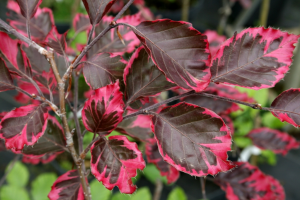 Zone 3 H(20-30′) W(10-20′)
Tricolor Beech
Fagus sylvatica 'Purpurea Tricolor'
Striking foliage is purple with irregular pinkish-white and rose borders. Not recommended for hot, dry areas.
---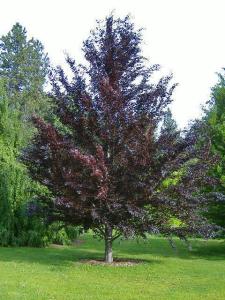 Zone 5 H(50′) W(30′)
10 gal. $203.50
20 gal. $249.00
River's Purple European Beech
Fagus sylvatica 'Riversii'
Very deep purple foliage all season long, absolutely beautiful when mature; prefers rich soil and regular moisture. Serrated pointy leaves are ornamentally significant and turn an outstanding coppery-bronze in the fall. The smooth silver bark is extremely showy and adds significant winter interest.
---
*ALL PLANT MATERIAL IS SUBJECT TO AVAILABILITY*