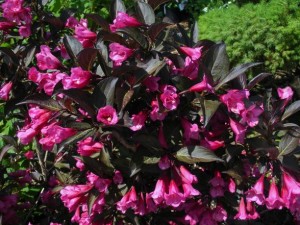 Zone 4 H(4-5′) W(4-5′)
1 gal. $17.50
2 gal. $29.90
3 gal. $39.95
7 gal. Tree $89.99
Wine & Roses Weigela
Weigela florida 'Alexandra'
Deep burgundy foliage, medium pink flowers in spring and again in the late summer. Trumpet-like flowers attract hummingbirds.
---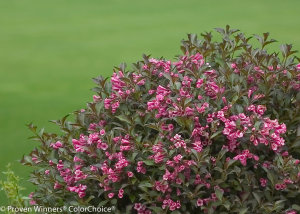 Zone 4 H(2-4′) W(3′)
3 gal. $36.00
Fine Wine Weigela
Weigela florida 'Bramwell'
This vastly improved Weigela selection has a tight and upright form without the tendency to fall open from the center. Rich, dark foliage color is similar in color to that of fine burgundy wine, providing vibrant contrast to the deep pink spring flowers. A slight shearing will encourage re-bloom through the summer. Deer resistant.
---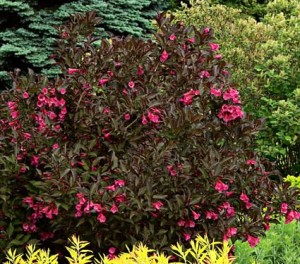 Zone 5 H(4′) W(4′)
2 gal. $39.00
3 gal. $49.99
Shining Sensation Weigela
Weigela florida 'Bokrashine'
Pink trumpet-shaped flowers engulf the plant in May and June, and then sporadically bloom through summer. Shiny, burgundy foliage appears as though it has been polished, and contrasts nicely with the pink flowers.
---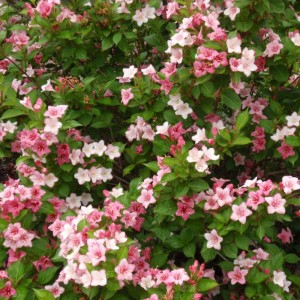 Zone 4 H(3′) W(3′)
3 gal. $32.50
Carnaval Weigela
Weigela florida 'Courtalor
Red, white and pink, thick azalea-like flowers cover this new introduction.
---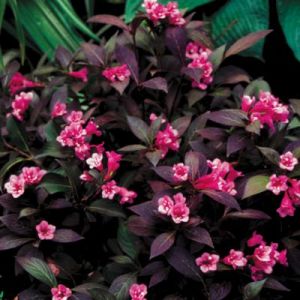 Zone 5 H(1′) W(2′)
3 gal. $36.00
Midnight Wine Weigela
Weigela florida 'Elvera'
Reddish-pink, funnel-shaped flowers appear singly or in clusters along the branches of the previous year's growth in mid- to late spring, with sparse and scattered repeat bloom often occurring on new growth as the summer progresses. Glossy, burgundy-purple leaves turn very dark purple in autumn. Loved for its consistently dark leaves, mounding and maintenance free habit. Weigela Midnight Wine achieves its best foliage color in full sun. Attracts hummingbirds. Deer resistant.
---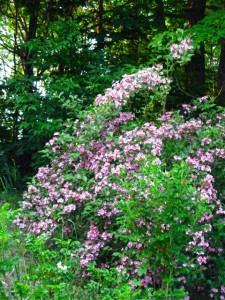 Zone 5 H(6′) W(3′)
5 gal. Tree $59.90
Gold Rush Weigela
Weigela florida 'Gold Rush'
Clusters of violet trumpet-shaped flowers with white overtones and dark red throats along the branches in late spring. It has attractive green foliage edged in yellow throughout the season. The brick red stems can be quite attractive.
---
Zone 4 H(3-4′) W(3-4′)
1 gal. $19.50
3 gal. $39.99
Rainbow Sensation Weigela
Weigela florida 'Kolmagira'
Dense clusters of soft- pink, trumpet-shaped flowers bloom in profusion in May, as hummingbirds flock to harvest the sweet nectar. Variegated foliage.
---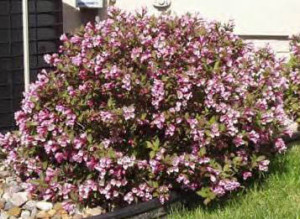 Zone 4 H(3′) W(5′)
1 gal. $15.00
2 gal. $29.90
3 gal. $39.00
Minuet Weigela
Weigela florida 'Minuet'
Rosy-pink blooms against purple-tinged foliage.
---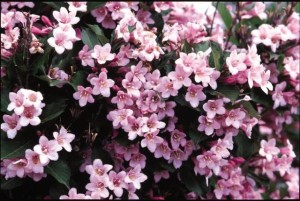 Zone 4 H(3-4′) W(4-5′)
2 gal. $27.50
3 gal. $39.00
Polka Weigela
Weigela florida 'Polka'
Pink flowers with a yellow inner throat appear in early summer. Thick, very dark green foliage.
---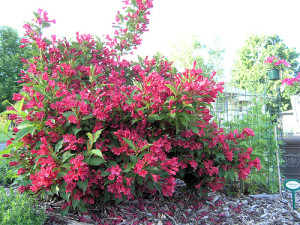 Zone 4 H(6′) W(6′)
1 gal. $15.40
2 gal. $31.00
3 gal. $39.95
5 gal. $49.50
2.5 – 3′ $49.00
4 – 5′ $79.00
5 gal. Tree $49.50
7 gal. Tree $89.00
Red Prince Weigela
Weigela florida 'Red Prince'
Trumpet shaped deep red flowers in June and July. Recurrent bloom in fall.
---
Varigated Weigela
Weigela florida 'Variegata'
Flowers deep rose over varigated foliage that is pale yellow to creamy white. Compact.
---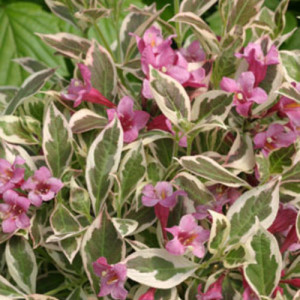 Zone 4 H(3-4′)W(3-4′)
1 gal. $19.95
2 gal. $29.00
My Monet Weigela
Weigela florida 'Verweig'
First dwarf variegated Its tight habit and colorful foliage make it very versatile. Soft pink flowers bloom in late spring, with scattered repeat bloom occurring throughout summer. Variegation changes depending on light exposure – whiter variegation in shade and pink variegation in full sun.
---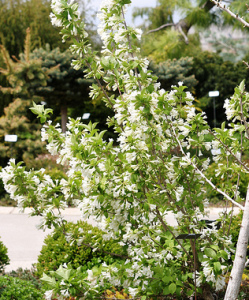 Zone 4 H(4-6′) W(3-5′)
2 gal. $31.00
3 gal. $39.00
April Snow Weigela
Weigela praecox 'April Snow'
Earliest flowering Weigela, about two weeks earlier than the very similar Weigela florida. Fragrant, funnel-shaped, white flowers with slight blush pink coloring. Flowers appear in late spring. Dense, rounded form with medium green leaves. Needs full sun for best flowering and foliage color, but will tolerate very light or sun dappled shade. Blooms on old wood. Attracts hummingbirds.
---
*ALL PLANT MATERIAL IS SUBJECT TO AVAILABILITY*