Zone 5 H(3-4′) W(3-4′)
5 gal. $49.00
Sunburst St. John's Wort
Hypericum frondosum 'Sunburst'
Large showy golden yellow flowers with dense bushy center stamens, and blue-green foliage. Blooms in June and July. Flowers give way to reddish-brown narrow oval fruit capsules that ripen in September and persist well into winter. Reddish-brown to purplish bark develops on mature stems.
---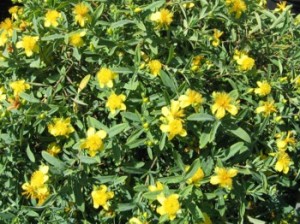 Zone 4 H(2-3′) W(2-3′)
1 gal. $17.99
2 gal. $29.99
St. John's Wort
Hypericum kalmianum 'Ames'
Yellow buttercup flowers at the ends of the branches from late spring to mid summer. Bluish-green foliage throughout the season. The fragrant narrow leaves are ornamentally significant but do not develop fall color. It produces red berries from late summer to mid fall.
---
*ALL PLANT MATERIAL IS SUBJECT TO AVAILABILITY*