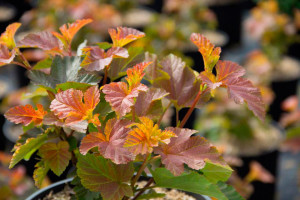 Zone 2 H(5-6′) W(4′)
1 gal. $19.90
2 gal. $37.50
5 gal. $69.00
Amber Jubilee Ninebark
Physocarpus opulifolius 'Amber Jubilee'
New growth takes on shades of yellow and orange in summer before turning purple in the fall. Foliage on mature sections of the plant is lime-green. Attracts butterflies.
---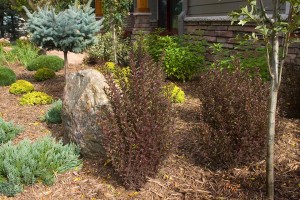 Zone 2 H(4′) W(3′)
1 gal. $19.99
2 gal. $36.00
3 gal. $49.00
5 gal. $69.00
7 gal. $99.00
Little Devil Ninebark
Physocarpus opulifolius 'Little Devil'
In early summer clusters of white flowers with shell pink overtones appear at the ends of the branches. The plant has burgundy foliage throughout the season. The small serrated leaves turn purple in fall.
---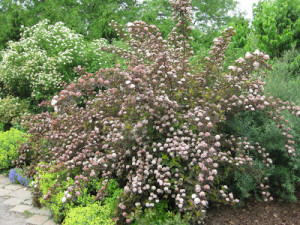 Zone 2 H(8-10′) W(6-8′)
3 gal. $39.50
5 gal. $59.99
15 gal. Tree $149.00
Diabolo Ninebark
Physocarpus opulifolius 'Monlo'
Upright arching branches. Purple-maroon foliage. Creamy white flowers with dense reddish berries in late Summer – early Autumn.
---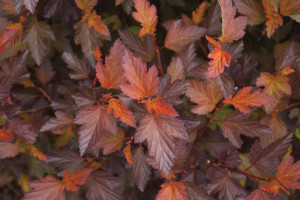 Zone 5 H(6-8′) W(5-7′)
Coppertina Ninebark
Physocarpus opulifolius 'Mindia'
New coppery-orange foliage turns to a richer red in the summer. Pinkish white flowers bloom mid-summer.
---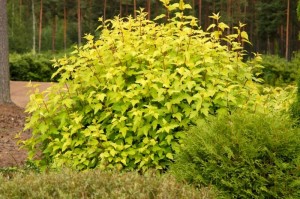 Zone 5 H(6′) W(5′)
5 gal. $59.00
10 gal. $89.00
Nugget Ninebark
Physocarpus opulifolius 'Nugget'
Dense, compact shrub. Foliage is a deep golden yellow with a hint of bronze on new growth. New growth is a deep golden yellow, turning lime green at maturity. Flowers are white but not especially showy; fruit is reddish brown and persistent. Fall foliage color, lasting several weeks, is a deep bronze.
---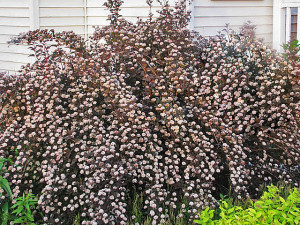 Zone 3 H(5-6′) W(5-6′)
1 gal. $19.99
3 gal. $39.50
5 gal. $59.00
7 gal. $99.00
3 gal. Tree $44.00
7 gal. Tree $109.00
Summer Wine Ninebark
Physocarpus opulifolius 'Seward'
Compact variety with dark crimson leaves and pinkish white button flowers in midsummer. A very nice cut flower.
---
*ALL PLANT MATERIAL IS SUBJECT TO AVAILABILITY*