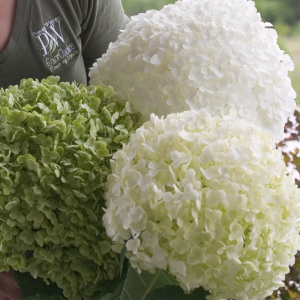 Zone 4 H(4′) W(6′)
5 gal. $44.00
Incrediball Hydrangea
Hydrangea arborescens 'Abetwo'
This spectacular improved version of the Annabelle hydrangea produces huge, full flower heads, as large as 12″ across, and is both reliable and beautiful. Flowers open green, then mature to white before fading to green again. Very sturdy stems hold the blooms upright even if soaked with rain. Blooms on new growth, so even very cold winters won't keep it from blooming.
---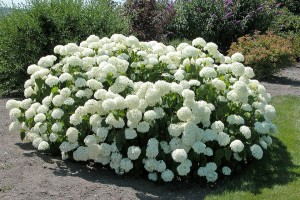 Zone 4 H(4′) W(6′)
2 gal. $26.95
3 gal. $38.50
3 – 4′ $64.00
Annabelle Hydrangea
Hydrangea arborescens 'Annabelle'
Snowball shaped flowers in mid-summer. Large spade shaped leaves. Cut to the ground in late winter. 2 year flowers on new wood. Cut first flowers in June, may get another flowering in Aug. – Sept.
---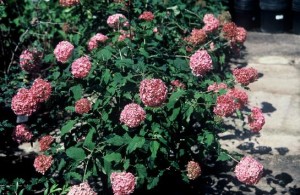 Zone 4 H(6′) W(6′)
3 gal. $36.50
5 gal. $49.00
7 gal. $59.00
Bella Anna Hydrangea
Hydrangea arborescens 'Bella Anna'
A hardy, showy shrub which features enormous ball-shaped pink flower heads in early summer; re-blooms in late summer. Blooms on new growth.
---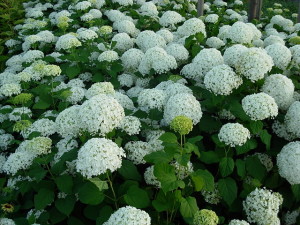 Zone 4 H(5′) W(5′)
10 gal. $54.00
White Dome Hydrangea
Hydrangea arborescens 'Dardom'
Huge lacy white dome shaped flowers. In early July. Strong stems. Leaves have a silvery underside.
---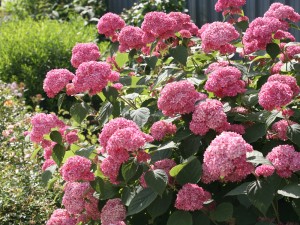 Zone 3 H(3-4′) W(3-4′)
3 gal. $39.50
5 gal. $43.50
Invincibelle Spirit Hydrangea
Hydrangea arborescens 'Invincibelle'
Dark pink buds open to hot pink flowers which then turn soft pink as they mature. Rich pink flowers bloom from early summer to frost, changing to green at the end of their life cycle. Very hardy. Reliable bloomer.
---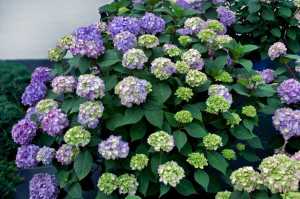 Zone 4 H(3-4′) W(4-5′)
1 gal. $22.99
2 gal. $34.00
3 gal. $42.50
5 gal. $59.00
6 gal. $69.60
Bloomstruck Hydrangea
Hydrangea macrophylla 'Bloomstruck
Meet BloomStruck®, the newest addition to the Endless Summer® Collection of re-blooming hydrangeas! BloomStruck will boast big, beautiful blooms all summer long. Another great feature of BloomStruck and this collection is the ability to change the blooms' color to your liking. Depending on soil pH, you can have vivid rose-pink or purple hydrangea flower heads. BloomStruck also has incredibly beautiful red-purple stems, dark green leaves with red petioles and red veins. Because of BloomStruck's extremely strong stems, above average heat tolerance and great disease resistance – especially to powdery mildew – it is a perfect combination of beauty and hardiness for your garden!
---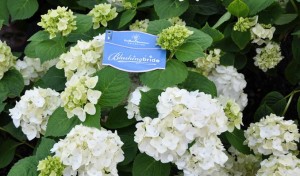 Zone 4 H(4′) W(4′)
1 gal. $23.50
2 gal. $29.99
3 gal. $39.60
5 gal. $59.00
Blushing Bride Hydrangea
Hydrangea macrophylla 'Blushing Bride'
Closely related to 'Endless Summer'. New flowers white changing to light blue or pink. Flowers June through frost.
---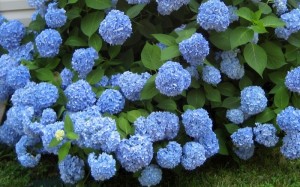 Zone 4 H(4′) W(4′)
1 gal. $19.99
2 gal. $32.50
3 gal. $39.99
5 gal. $50.00
6 gal. $69.50
7 gal. $99.00
10 gal. $109.00
Endless Summer Hydrangea
Hydrangea macrophylla 'Endless Summer'
Blooms on both new and old wood. Very hardy. 8″ blooms that are blue in acidic soils and pink in alkaline soils.
---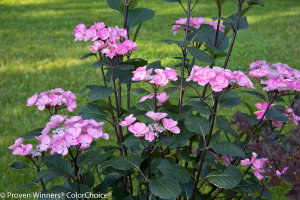 Zone 4 H(3-4′) W(3-4′)
3 gal. $39.00
Abracadabra Star Hydrangea

Hydrangea macrophylla 'Horabstra'

Soft pink and white bi-color flowers pop out of black wand-shaped stems. As the flowers age they turn a deep hot pink.Prefers well-drained but moist soil. You'll want to prune right after the summer bloom season is done because it sets bud in the fall on old wood. Even without flowers, the unique black stems give this shrub a 'wow' factor in your garden.
---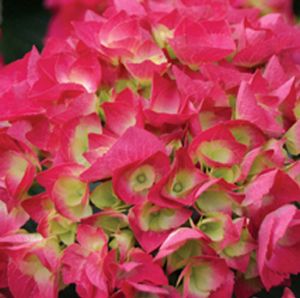 Zone 5 H(3-4′) W(3-4′)
3 gal. $38.00
Abracadabra Orb Hydrangea
Hydrangea macrophylla 'Hororb'
Bright mop-head flowers emerge green and peach then maturing to hot pink. The distinctive black stems are interesting even when the plant is not in bloom.
---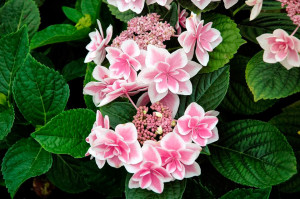 Zone 5 H(3-4′) W(3-5′)
1 gal. $16.50
Stargazer Hydrangea
Hydrangea macrophylla 'Konpeito'
Interesting white edges with blue or pink star insets, depending on soil pH. Flowers in the spring re-blooming throughout summer, and fall with good mildew resistance. Compact habit.
---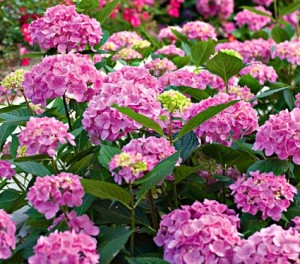 Zone 5 H(2-3′) W(3-4′)
Moonlight Hydrangea
Hydrangea macrophylla 'Robert'
Vibrant flower color and sturdy stems. Re-blooming large, vividly colored mop head flowers in summer, with the added bonus of great fall foliage color. Blooms every year on both existing and new stems. Soil pH affects blossom color.
---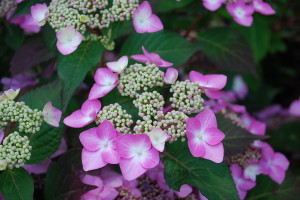 Zone 4 H(4′) W(4′)
1 gal. $19.95
2 gal. $29.99
3 gal. $39.99
5 gal. $49.90
Twist and Shout Hydrangea
Hydrangea macrophylla 'Twist and Shout'
Blooms on new wood repeatedly throughout the summer. Lace-cup blooms bi-color of deep pink and startling blue. Sturdy stems deep maroon-red with lustrous deep green mildew resistant foliage. Fall foliage is deep maroon-red.
---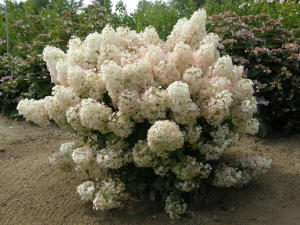 Zone 3 H(3′) W(3-4′)
2 gal. $29.50
3 gal. $39.00
7 gal. $69.00
Bobo Hydrangea
Hydrangea paniculata 'Bobo'
New dwarf form. In summer the plant will be engulfed by large creamy white flowers, providing a nonstop show until frost. Blossoms are held upright on strong stems, and continue to grow and lengthen as they bloom. In fall, flowers may turn a pinkish hue.
---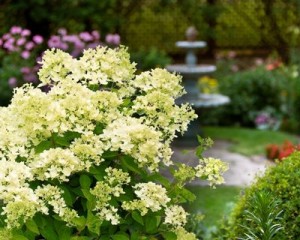 Zone 3 H(3′) W(3-4′)
Bombshell Hydrangea
Hydrangea paniculata 'Bombshell'
Unbelievably tight and dwarf form. Strong stems support tons of flowers. Much earlier to bloom than other paniculata's. Little pruning needed.
---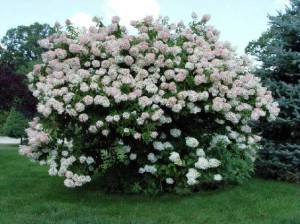 Zone 3 H(8′) W(8′)
3 gal. $34.50
5 gal. Tree $54.99
7 gal. Tree $79.00
Pee Gee Hydrangea
Hydrangea paniculata 'Grandiflora
Hardy shrub with large white flowers changing to pink in fall then bronze after frost.
---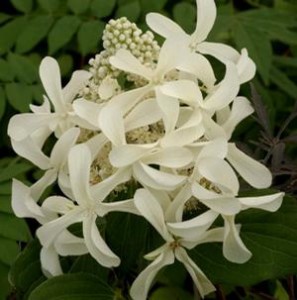 Zone 4 H(6-7′) W(8-10′)
Great Star Hydrangea
Hydrangea paniculata 'Le Vasterival'
Flowers open to large white wavy star shaped florets which can be up to 4 inches in width. Flowering starts mid summer and will last until the first hard frost. Attracts butterflies.
---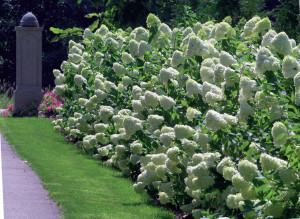 Zone 3 H(8′) W(8′)
1 gal. $19.99
3 gal. $39.00
5 gal. $59.00
7 gal. $89.90
5 gal. Tree $89.00
7 gal. Tree $119.00
Lime Light Hydrangea
Hydrangea paniculata 'Lime Light'
Bright chartreuse blooms in mid-summer that hold bright and refreshing color right into autumn when the blooms change color to a rich deep pink.
---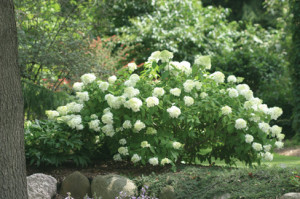 Zone 3 H(4-6′) W(4-6′)
6 gal. $59.00
7 gal. $69.00
Little Lamb Hydrangea
Hydrangea paniculata 'Little Lamb'
Flower petals are the smallest and most delicate of any Hydrangea. These little flowers are held in tight, but delicate flower heads. Blooms in mid-summer and lasts into autumn. The pure white blooms light up a garden and blend wonderfully with all other colors. Flowers may turn pink in the fall.
---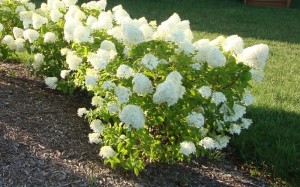 Zone 3 H(3-5′) W(3-5′)
2 gal. $35.99
3 gal. $39.00
7 gal. $69.00
Little Lime Hydrangea
Hydrangea paniculata 'Little Lime'
New dwarf form of the popular Limelight Hydrangea, Little Lime sports the same great flower power but in a smaller package. Attractive green summer flowers turn pink in fall. Very hardy.
---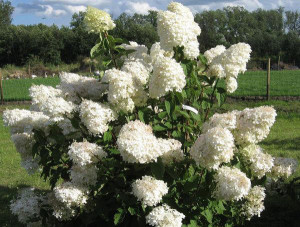 Zone 4 H(10-15′) W(10-15′)
3 gal. $38.50
7 gal. Tree $90.00
Phantom Hydrangea
Hydrangea paniculata 'Phantom'
Mammoth flower cones can reach up to 15″ tall that will stand straight without flopping over. A huge hydrangea that begins its flowing regiment like other paniculatas in August.
---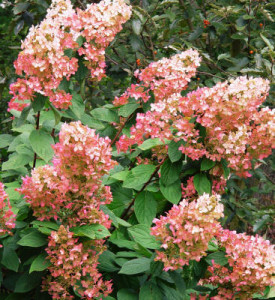 Zone 3 H(8′) W(8′)
3 gal. $39.00
5 gal. $54.00
7 gal. $68.50
7 gal. Tree 5′ $89.00
7 gal. Tree 6′ $99.00
Pink Diamond Hydrangea
Hydrangea paniculata 'Pink Diamond'
This rich, pink hydrangea is a real eye pleaser. With its 12″ long flower heads.
---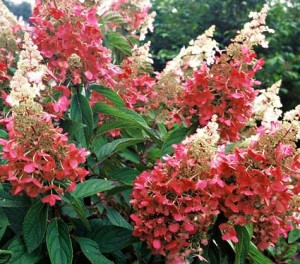 Zone 4 H(6-8′) W(6-8′)
2 gal. $26.95
3 gal. $39.10
5 gal. $59.00
7 gal. $89.90
10 gal. $99.00
7 gal. Tree $99.00
Pinky Winky Hydrangea
Hydrangea paniculata 'Pinky Winky'
Strong rigid stems don't flop when in bloom. Big pink flowers well into fall. Full sun or part shade.
---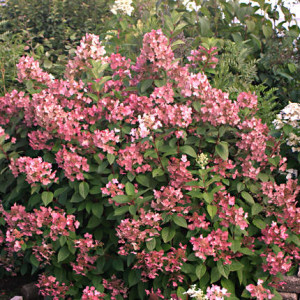 Zone 4 H(6-8′)W(6-8′)
1 gal. $21.00
2 gal. $36.00
3 gal. $39.10
5 gal. $59.00
7 gal. $69.99
7 gal. Tree $129.00
Quick Fire Hydrangea
Hydrangea paniculata 'Quick Fire'
Dense round plant starts flowering in June. White to pink flowers.
---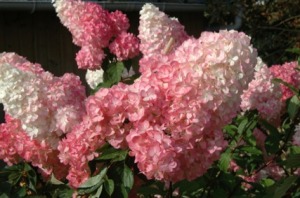 Zone 4 H(4-5′) W(3-4′)
1 gal. $19.99
2 gal. $36.99
3 gal. $42.50
5 gal. $49.99
Strawberry Sundae Hydrangea
Hydrangea paniculata 'Rensun'
Colorful flowers resemble those of Vanilla Strawberry™. The blossoms evolve in similar fashion as the season progresses, from creamy white to pink to red. An award-winning variety that provides an easy way to add color to small spaces.
---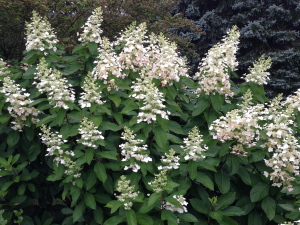 Zone 4 H(7′) W(6′)
3 gal. $32.45
Tardiva Hydrangea
Hydrangea paniculata 'Tardiva'
Inflorescent 6″ panicles quite late (Sept.) Ray of flowers are less numerous and smaller than P.G Hydrangea.
---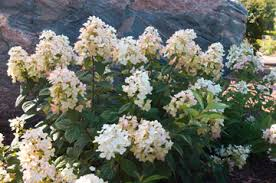 Zone 5 H(5′) W(5′)
2 gal.  $26.95
5 gal. $39.60
7 gal. $59.00
Tickled Pink Hydrangea
Hydrangea paniculata 'Tickled Pink'
Outstanding large conical flower heads start off cream colored and then change to pink in the cooler, late-season weather, lasting into fall.
---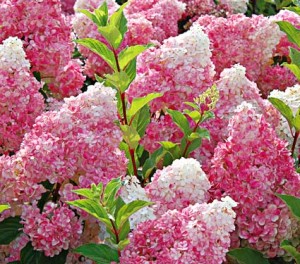 Zone 4 H(8′) W(8′)
1 gal. $19.99
2 gal. $39.99
3 gal. $42.50
5 gal. $59.00
7 gal. Tree $129.00
Vanilla Strawberry Hydrangea
Hydrangea paniculata 'Vanilla Strawberry'
In mid-summer plant produces large flower heads. They begin creamy white but turn pink two weeks later and then become strawberry red or even burgundy, retaining that shade for about three to four weeks. New flowers continue opening into late summer so plants display all three color stages at any one time. Stems are red, making quite a contrast against the green leaves.
---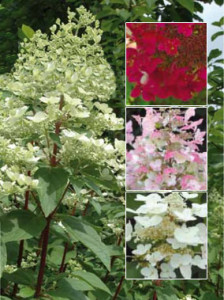 Zone 4 H(6′) W(6-10′)
Fire & Ice Hydrangea
Hydrangea paniculata 'Wim's Red'
Greenish-red foliage all season. Blooms arrive a creamy white in early summer, turn pink in mid-summer, becoming deep red in fall. Heat tolerant.
---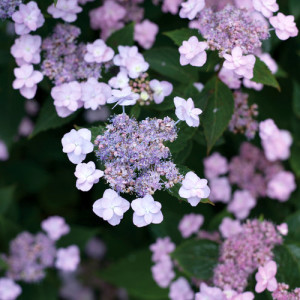 Zone 4 H(1-2′) W(1-2′)
3 gal. $39.50
Tiny Tuff Stuff Hydrangea
Hydrangea serrata 'Tiny Tuff Stuff'
In summer abundant, double, re-blooming flowers usually soft blue, or in alkaline soil a soft pink arrive and continue until frost.
---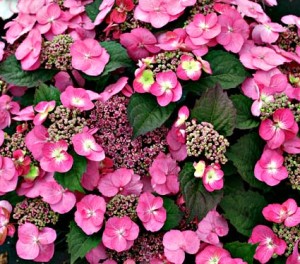 Zone 4 H(2-3′) W(2-3′)
3 gal. $39.90
5 gal. $49.99
Tuff Stuff Hydrangea
Hydrangea serrata 'Tuff Stuff'
Reddish-pink flowers create a mass of color in early summer, and continues to produce new flowers until frost. The semi-double to double florets begin with a creamy color in the center before maturing to an intense pink. Flowers may shift to blue in acidic soils.
---
*ALL PLANT MATERIAL IS SUBJECT TO AVAILABILITY*