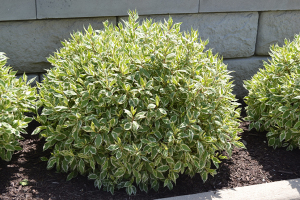 Zone 3 H(5-6′) W(5-6′)
1 gal. $17.99
2 gal. $31.50
3 gal. $36.50
5 gal. $54.00
7 gal. $69.00
Ivory Halo Dogwood
Cornus alba 'Bailhalo
Compact variegated dogwood with fine texture and full habit. Red Stems.
---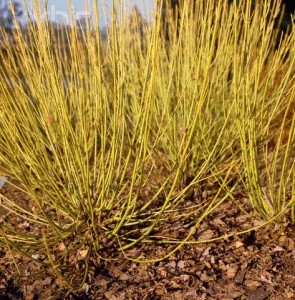 Zone 3 H(6-8) W(6-8)
3 gal. $29.95
Bud's Yellow Dogwood
Cornus alba 'Bud's Yellow'
Green foliage throughout the season. Pointy leaves turn yellow in fall. Clusters of creamy white flowers at the ends of the branches in late spring. Produces white berries in mid summer. Has yellow branches which are extremely showy and add significant winter interest.
---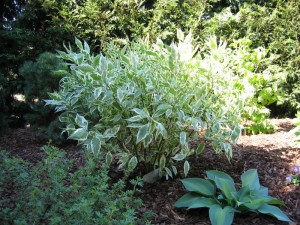 Zone 3 H(6-8) W(6-8)
Variegated Dogwood
Cornus alba 'Variegata'
Distinctly different from other dogwood varieties. Vigorous. Creamy white margins and dark green leave in season, then turns to mostly red twigs in the winter.
---
Zone 2 H(8′) W(5′)
3 gal. $39.00
5 gal. $49.00
7 gal. $59.00
Red Twig Dogwood
Cornus alba 'Siberica'
Heads of creamy-white flowers appear in late spring/early summer surrounded by dark green foliage. Small, blue/white fruits follow in autumn. The leaves redden slightly in autumn before falling to reveal bright red stems.
The best stem color comes with young stems, so hard pruning it each year to cut out the older ones will provide the best color. However, if hard pruning is done flower buds will be cut off and won't have a floral display that year.
---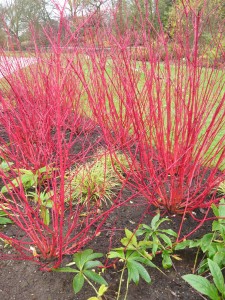 Zone 3 H(8′) W(10′)
1 gal. $12.99
2 gal. $27.50
3 gal. $32.50
7 gal. $59.00
Bailey's Red Twig Dogwood
Cornus sericea 'Baleyi'
Fast growing, Bright red stems that are spectacular against the winter landscape. Fall foliage is red. Prefers moist soils. Sun or shade.
---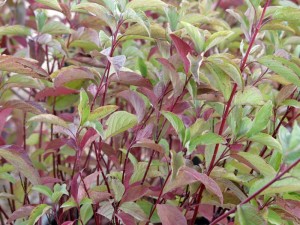 Zone 3 H(4-5′) W(4-8′)
7 gal. $59.00
2.5 – 3′ $69.00
Isanti Red Twig Dogwood
Cornus sericea 'Isanti'
In winter, the red stems of your Isanti Dogwood will astound you with their vibrant color, especially against the crisp, white snow. Petite, white flowers form in clusters in spring, leaves form as well, bringing your Dogwood an attractive summer appearance. The leaves turn a deep red for fall, and the flowers become blue-tinted. Fast-growing, multi-stemmed shrub. Tolerant of a variety of soils, and doesn't mind boggy conditions. It will grow sun or shade.
---
*ALL PLANT MATERIAL IS SUBJECT TO AVAILABILITY*