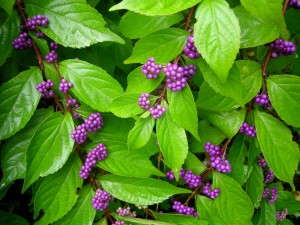 Zone 5 H(3-4′) W(3-4′)
7 gal. $59.00
Early Amethyst Beautyberry
Callicarpa dichotoma 'Early Amethyst'
Clusters of small, lavender-pink flowers bloom along the stems in summer. Flowers are followed by large clusters of bright, glossy, amethyst-purple fruits which ripen in late summer. Medium green foliage. Fruits persist beyond the point of leaf drop but not very far into winter. Fruits are attractive to birds.
---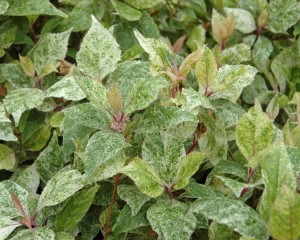 Zone 5 H(3-4′) W(3-4′)
3 gal. $32.50
Snowstorm Beautyberry
Callicarpa japonica 'Snow Storm'
Foliage starts out almost pure white, and becomes speckled with green as the season progresses. Small pink flowers shine against the foliage in early summer, and the glossy purple fall fruit keeps things interesting even after the leaves have fallen.
---
*ALL PLANT MATERIAL IS SUBJECT TO AVAILABILITY*