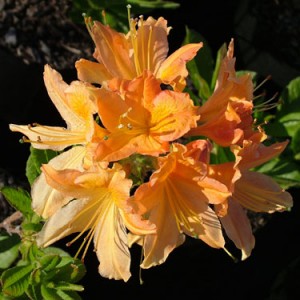 Zone 4 H(4′) W(4′)
Cockatoo Azalea
Rhododendron 'Cockatoo'
Long light green leaves appear after the flowers in late spring. Clusters of funnel-shaped fragrant brilliant golden-orange flowers in spring. Grows best in acidic loamy soil that does not get too dry. Prefers semi-shade, hardy.
---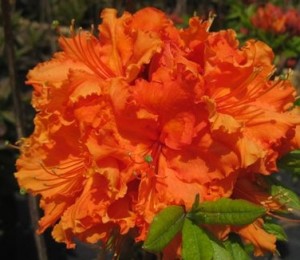 Zone 4 H (6′) W(6′)
1 gal. $15.99
2 gal. $26.95
3 gal. $39.99
5 gal. $49.50
Gibraltar Azalea
Rhododendron 'Gibraltar'
Brilliant orange, large flowers.
---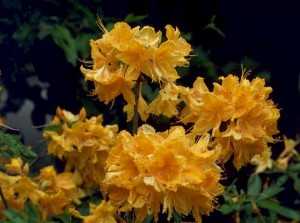 Zone 3 H(3-6′) W(3-6′)
3 gal. $37.00
Golden Lights Azalea
Rhododendron 'Golden Lights'
Compact, very cold hardy. . Features roundish trusses of profuse, fragrant, yellow flowers on stems in May.
---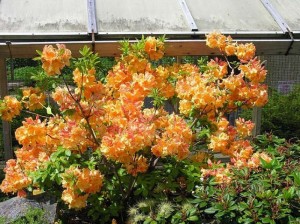 Zone 4 H (6-8′) W(6-8′)
2 gal. $27.95
Klondyke Azalea
Rhododendron 'Klondyke'
An excellent hybrid, this rhododendron has a slow growing habit, with a wide upright shape flush with young copper-red foliage and eventually blooms large golden flowers.
---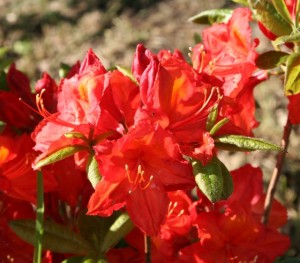 Zone 4 H(6′) W(4′)
Knaphill Red Azalea
Rhododendron 'Knaphill Red'
Small red flowers in June.
---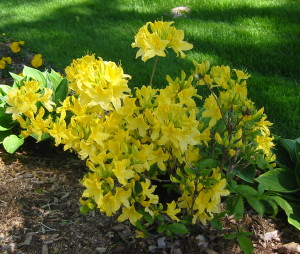 Zone 4 H(4-5′) W(3-4′)
2 gal. $29.50
Lemon Lights Azalea
Rhododendron 'Lemon Lights
Beautiful yellow, almost bicolor flower with both a lighter shade of yellow on the outer edges of the petals, and a more gold toned throat of the flower. This cultivar has great powdery mildew resistance and nice maroon-bronze fall foliage color.
---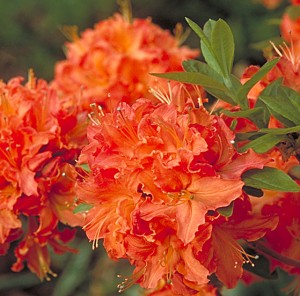 Zone 4 H(4′) W(4′)
1 gal. $14.99
3 gal. $37.40
7 gal. $69.50
10 gal. $89.90
Mandarin Lights Azalea
Rhododendron 'Mandarin Lights'
Bright mandarin orange blossoms before foliage.
---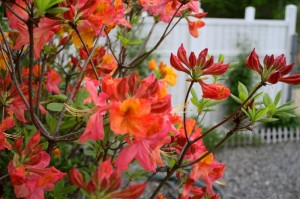 Zone 4 H(6′) W(6′)
Mt. St. Helen's Azalea
Rhododendron 'Mt. St. Helen's'
Salmon pink flowers with yellow and orange. Compact dense form. Semi-evergreen.
---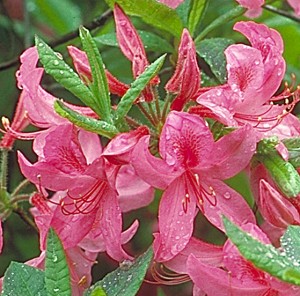 Zone 4 H(4′) W(4′)
Northern Lights Azalea
Rhododendron 'Northern Lights'
Nice soft pink flowers.
---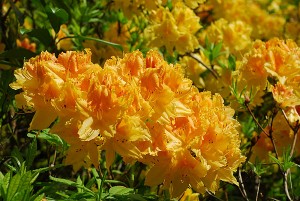 Zone 4 H(6′) W(4′)
Old Gold Azalea
Rhododendron 'Old Gold'
Gold flowers. Full sun to part shade.
---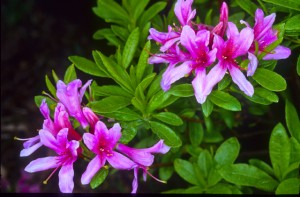 Zone 3 H(3′) W(3′)
3 gal. $39.00
Orchid Lights Azalea
Rhododendron 'Orchid Lights'
Compact grower with lilac flowers.
---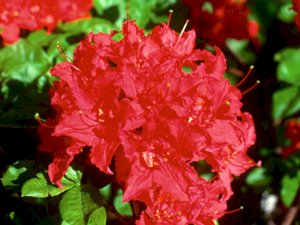 Zone 5 H(6′) W(4′)
Red Letter Azalea
Rhododendron 'Red Letter'
Brilliant red flowers in early spring.
---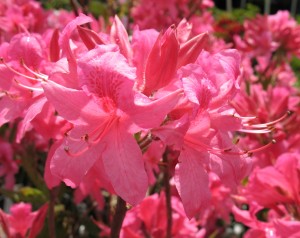 Zone 3 H(4′) W(6′)
1 gal. $14.50
3 gal. $36.50
5 gal. $42.50
7 gal. $59.00
Rosy Lights Azalea
Rhododendron 'Rosy Lights'
Fragrant deep pink flowers.
---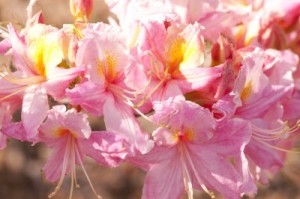 Zone 4 H(3-4′) W(3-4′)
5 gal. $49.99
Tri-Lights Azalea
Rhododendron Tri-Lights
Fragrant tubular frilled edged white flowers in late spring have pink tinge and a yellow center. Upright rounded form Attracts hummingbirds and butterflies. Deer resistant. Prefers moist well drained slightly acidic humus type soils.
---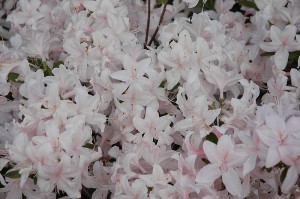 Zone 3 H(5-6′) W(5-6′)
White Lights Azalea
Rhododendron 'White Lights'
Lightly-scented clusters of white trumpet-shaped flowers with a yellow blotch at the ends of the branches in mid spring, which emerge from distinctive shell pink flower buds before the leaves. It has green foliage throughout the season.
---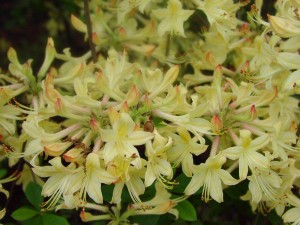 Zone 5 H(6-8′) W(4-6′)
2 gal. $37.00
3 gal. $39.99
Lemon Drop Azalea
Rhododendron viscosum 'Lemon Drop'
This selection has fragrant, yellow flowers. Dramatic color contrast placed near the straight species. Buds are yellow-orange and open to soft, buttery yellow foliage which cools the warm summer shade garden.
---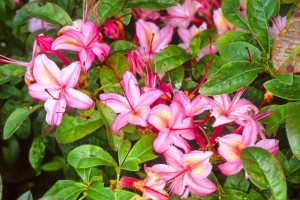 Zone 4 H(6′) W(6′)
3 gal. $38.50
Lollipop Azalea
Rhododendron viscosum 'Lollipop'
Dreamy vanilla scent. Clear pink flowers.
---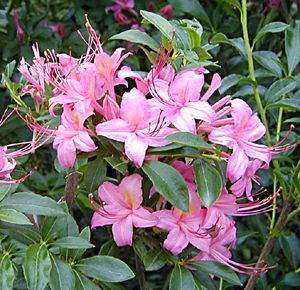 Zone 4 H(2′) W(6′)
3 gal. $39.50
Parade Azalea
Rhododendron viscosum 'Parade'
Very fragrant in summer bright pink flowers.
---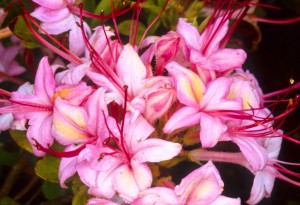 Zone 4 H(5-7′) W(6-8′)
2 gal. $28.59
3 gal. $39.95
Pink and Sweet Azalea
Rhododendron viscosum 'Pink and Sweet'
Very hardy, and slow growing. Masses of very fragrant, pink flowers with a yellow center in early summer. Leaves turn purple-red with tints of yellow and orange in the fall.
---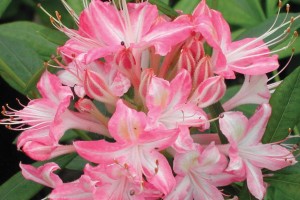 Zone 4 H(6′) W(6′)
3 gal. $44.00
Ribbon Candy Azalea
Rhododendron viscosum 'Ribbon Candy'
Thick bluish green foliage with pink star shaped flowers with white strips and fragrant. Grow in semi shade.
---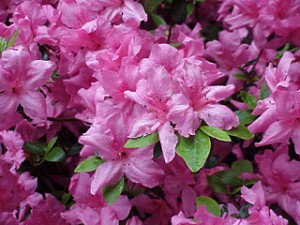 Zone 4 H(6′) W(6′)
Sparkler Azalea
Rhododendron viscosum 'Sparkler'
Profuse pink fragrant flowers.
---
*ALL PLANT MATERIAL IS SUBJECT TO AVAILABILITY*