Zone 4 H(10-12′) W(8-12′)
7 gal. Tree $129.00
Burning Bush Tree Form
Euonymus alatus 'Compactus'
Dense, mounded, tree trained into form that is particularly noted for its fiery red fall foliage color. Small, yellowish-green flowers appear in early spring but are not showy.
---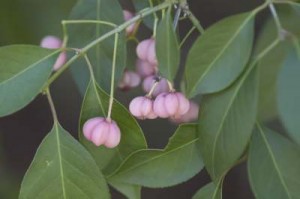 Zone 3 H(10-12′) W(10-12′)
7 gal. $99.00
Prairie Radiance Winterberry Euonymus Tree Form
Euonymus bungeanus 'Verona'
Light green foliage. Pointy leaves turn an outstanding cherry red in the fall. It features abundant showy pink capsules from early to late fall. Trained into a tree form.
---
*ALL PLANT MATERIAL IS SUBJECT TO AVAILABILITY*