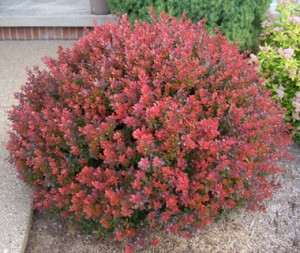 Zone 2 H(2′) W(3′)
Crimson Pygmy Barberry
Berberis thunbergii 'Atropurourea Nana'
Dwarf compact growth. Foliage is deep crimson. Full sun for good color.
---
Bonaza Gold Barberry
Berberis thunbergii 'Bogozam'
Outstanding semi-dwarf golden contrast plant. Best in full sun.
---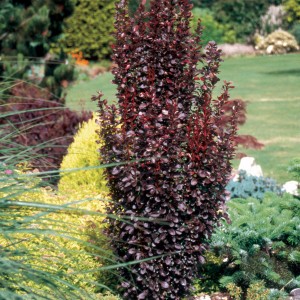 Zone 3 H(4-5′) W(2′)
3 gal. $36.00
Helmond Pillar Barberry
Berberis thunbergii 'Helmond Pillar'
Upright form with red leaves.
---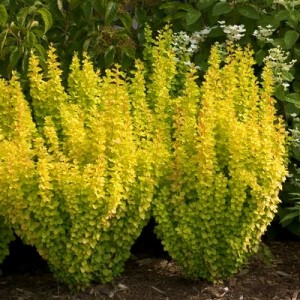 Zone 4 H(3-4′) W(2′)
3 gal. $39.99
Gold Pillar Barberry
Berberis thunbergii 'Maria'
Similar in shape to Helmond Pillar Barberry, but with bright golden foliage and red new growth. Burn-resistant yellow foliage turns bright orange-red in fall. Distinctive columnar habit.
---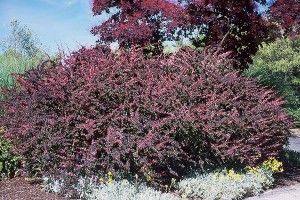 Zone 4 H(4′) W(3′)
2 gal. $24.20
Rose Glow Barberry
Berberis thunbergii 'Rose Glow'
New leaves are mottled red and white with a complete overcast of rosy pink. Densely branched. Full sun for best color.
---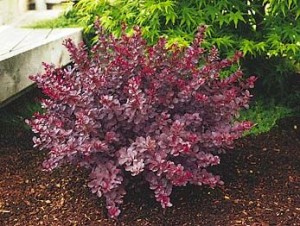 Zone 4 H(2′) W(3′)
Royal Burgundy Barberry
Berberis thunbergii 'Royal Burgundy
A richer burgundy color than 'Crimson Pygmy' and becomes a showy black-red in fall. It is slightly smaller than Crimson Pygmy but similar in habit.
---
Gold Beret Barberry
Berberis thunbergii 'Talago'
Dwarf cultivar that is noted for its bright yellow foliage. It grows in a rounded mound. In spring leaves emerge yellow with faint red tinges, mature to bright yellow in summer and develop orange-red color in fall. If grown in too much shade, the spring-summer leaves will turn yellow-green. Tiny, somewhat inconspicuous pale yellow flowers appear on stems from late April to early May. Glossy, bright red berries form in the fall.
---
*ALL PLANT MATERIAL IS SUBJECT TO AVAILABILITY*